Hello everybody, friends, wine lovers, welltrained or novice wine tasters !
Today, the article is dedicated to our cuvée Lledoner pelut 2015 vintage ! This last one got, last week, a silver medal at the contest Grenaches du Monde 2017 wich took place in Italy at Alghero the 10th of february. It is an international contest which group all varieties of grenache (cousins, ancestor, derivates…) from all over the world ! For more informations about the contest :  http://www.grenachesdumonde.com/en/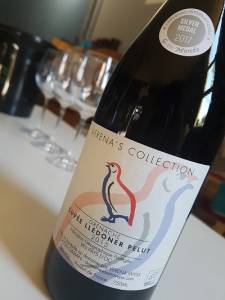 We don't really use to present our wines in contest, but this year we wanted to present our lledoner to this Grenaches contest because this grape variety is really unknown and it deserves to be more famous (…not too much) in world's grenache ! And here it is… he obtain this silver medal for the 2015 vintage ! Finally we are satisfied 😉
To describe you this vintage embottled few weeks ago, it is a really estonnish cuvée. This year, the riped strawberries aromas, pepper notes gave this  original cuvée. Of course always this incomparable freshness and mentholated notes, so surprising for a red wine. It keep you coming back for more…
Drinkable in every season; winter with melted cheese, spring with tapas, charcuterie and vegetables, summer bearly fresh with barbecue and autumn with pies or a risotto !!
So, only one thing to do now : come to taste it in our cellar or find it at our partners !
Until we meet again in Gabian or everywhere else, we wish you great wine tastings… See you all soon !!!
The team from Domaine Verena Wyss : Verena, Patrick & Caroline.